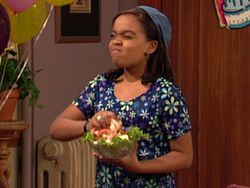 Kyra Rockmore (Portrayed by Vanessa Baden) is Kenan's younger sister. Kyra's biggest mission is telling on her brother Kenan, but she has devoted herself to Kel, having a major crush on him. Kel being aware of Kyra's crush on him, tries to get far away as possible from her. But this helps Kenan, so Kel convinces her to help them.
For most of seasons three and four, Kyra did not appear, even in scenes showing the whole family; she did, however, appear in the series' finale TV movie. She often interrupts Kenan by saying "I was talking to Kel!".
The character appeared in many episodes, but not enough to make a majority or even a 50% division, as her actress was still a child and thus needed to attend school.
Age:
9-10 (Season 1)
10 (Season 2)
11-12 (Season 3)
12-13 (Season 4)
By the closing of the show she (Vanessa) was around 15 years old.