Welcome to...
THE KENAN AND KEL WIKI
110 articles • 33 files • 1,812 edits
ABOUT THE WIKI
The Kenan and Kel Wiki is a collaborative, fan created and maintained wiki site which is solely dedicated to covering everything about the American sitcom Kenan & Kel. This will aims to continue to grow and cover all aspects of the show including the show, characters, episodes, locations, etc. This wiki is a fan created collaborative effort which means that we encourage every visitor to edit and add what they know!
FEATURED CHARACTER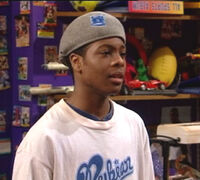 Kel Kimble is the slightly dim-witted and clumsy best friend of Kenan Rockmore. In fact, his impulsive, usually lack of attention, naïvety and strange behavior, make Kel to be accident-prone, might being able to create the biggest disaster with the most ordinary things and actions.
He loves orange soda (which he professes by talking in the third person: "Who loves orange soda? Kelllll loves orange soda. Is it true? Mm-hmm! I do, I do, I do-ooooh!") and never pays for the soda he drinks at Kenan's place of business, Rigby's. Read more: Kel Kimble
FEATURED ACTOR


Kenan Thompson (born May 10, 1978) is an American actor and comedian. He is best known for his work as a cast member of NBC's long-running sketch comedy series Saturday Night Live, as well for his starring roles in the films Good Burger and Fat Albert.
He is also known for his portrayal of Kenan Rockmore on the Nickelodeon sitcom Kenan & Kel, and as an original cast member of the Nickelodeon sketch comedy series All That. Read more at ...... Kenan Thompson